Starting a new Business – The best places to start a new business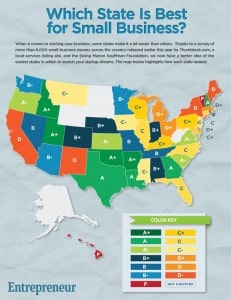 Starting a new business requires many factors to be in place, but the most important element is living in a state that has a business friendly environment. How easy your state makes it to become licensed is an important factor in determining your state's friendliness to small business.
Other factors are involved: economic growth, educated workforce, reasonable business costs, and effective training programs. New business owners, however, determined that the key to a pro-growth environment was business friendly government policies and strong incentive offerings.
In a recent survey conducted by Thumbtack and the Ewing Marion Kauffman Foundation, 12,000 small-business owners across 38 states responded on topics concerning how easy it was for them to start a new small business. Utah topped the list while Pennsylvania placed 33 in the overall rankings.
As you are planning your business, start with an online search of Federal, State and Local licensing procedures. Each will have different requirements to follow. Know what is expected of you before you make your way to your local government office to file paperwork. Knowing what to expect up front and doing the legwork will make it easier on you.