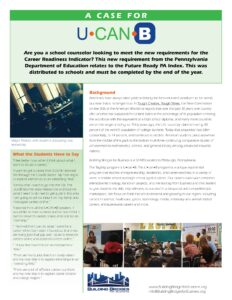 Building Bridges for Business is a 501©3 located in Pittsburgh, Pennsylvania.  The Career Readiness Indicator program is now a requirement for schools across Pennsylvania.
Building Bridges has been providing career education and workforce development programs for years and school are working with UcanB to meet these requirements.
The flagship program is UcanB. The UcanB program is a unique experiential program that teaches entrepreneurship, leadership, and career-readiness in a variety of areas to middle school and high school aged students. Our proven curriculum combines interactive technology, hands-on projects, and mentorship from business and civic leaders to give students the skills they will need to succeed in a fast-paced and competitive job marketplace. We focus on fields that are in-demand and growing in our region, including careers in science, healthcare, green, technology, media, veterinary and animal related careers, entrepreneurial careers and more.