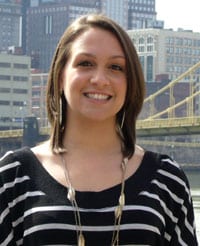 Kelly Collier, the most recent Coffee With… guest, was a young, healthy, athletic student at Carnegie Mellon University. But she suffered from severe lower back pain. As a senior engineering design project she and her classmates were tasked with designing something – anything. As others in her group had also suffered from back pain, the idea of designing a posture training shirt to help rehabilitate back pain was discussed. Getting an A on the project helped her secure a spot in the 2012 AlphaLab accelerator program. After graduating from the program and collaborating with biomedical engineers and a practicing physician, ActivAided Orthotics was born.
ActivAided Orthotics is dedicated to supporting active lifestyles and keeping people of all ages strong, healthy and pain free. Their products are based on a unique treatment philosophy that remedies pain by encouraging self-correcting habits. Their posture training shirt teaches people how to use their body and posture in a proper way so they can pursue their passions without limits.
Kelly talks with Christopher Evans on Coffee With… about her business journey. Local Pittsburgh resources were a big part of her beginning. Even though ActivAided Orthotics is now a national company with other user friendly innovated products in development, she still counts on her Pittsburgh resources for her business growth.
Coffee With… is an informal interview with prominent business, community and government leaders covering a wide array of issues from business planning to entrepreneurship, and business challenges that affect the economic landscape of the region. Watch the latest installment to see more about Kelly Collier and ActivAided Orthotics.