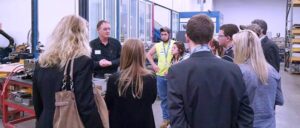 The skills training system in Germany is a widespread and popular way to prepare young people to be effective contributors in the workplace. In the German dual training model, theory and practice are combined in a nationally standardized curriculum designed for each of 300+ careers; a young person is employed by a company in a training position and, at the same time, is also enrolled in a vocational educational program to acquire needed classroom knowledge. The two parallel experiences reinforce each other.
No other apprenticeship system is as widely applied and successful as the German system. Every year, 1.5 million people train in the German system. Because of this, Germany enjoys the lowest youth unemployment of any industrialized nation (7.1%), and youth unemployment far below the United States (16.8%) and the Eurozone average (22.3%).
This approach has been adapted for use in the United States, often with support from the German Embassy's Skills Initiative. One example is South Carolina, where German-owned companies faced a shortage of skilled workers to fill open positions that offered good pay, job security and a career path. The same problem exists in Pittsburgh, where some of the local employers cannot easily find the right mix of skills and education in job candidates. At the same time, Pittsburgh's youth unemployment rate remains at 18% (above the national average) because of the skills gap that exists.
In order to address this need, the partnership between Building Bridges for Business and the Pittsburgh chapter of the German American Chamber of Commerce has adapted the German dual training model for application in the Pittsburgh area. The project connects young people seeking skills training and employment with apprenticeship programs at Pittsburgh area companies. The apprenticeship program, facilitated by Building Bridges and the GACC involves time split between traditional classroom education and on-the-job training in the field that the trainee is interested in.
The trainees are recruited as high school seniors, and they will be given the opportunity to finish their high school degree during the program. The curriculum for the program is based on the existing standardized German curriculum for each profession. The goal is that at the end of the program, the trainee will have a job waiting for them in the skill area from their host company, and the company will have a well-trained future employee so that both employer and trainee will benefit from the program. As a result of that, the local economy will have more resilient companies with a globally-minded, competitive workforce, and lower youth unemployment.