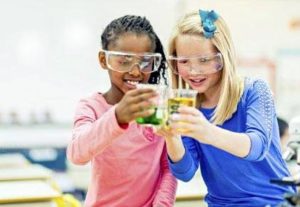 Women make up about 50% of the workforce in the United States but hold only 25% of STEM jobs. Carnegie Science Center is working to reverse this disturbing trend through a wide range of programs, including Girls Rock Science Weekend.
Carnegie Science Center is partnering with KDKA TV for a weekend designed to get girls excited about science and technology and to acquaint them with a wide range of STEM careers. Throughout the building, STEM professionals from a wide range of organizations will staff tables of interactive demonstrations and hands-on activities.
Girls who have participated in our STEM competitions, like our Pittsburgh Regional Science & Engineering Fair and the Future City Competition, will bring their projects to display and discuss with visitors.
A STEM Chat feature is being planned to foster conversations between girls and STEM professionals. STEM Chats will take place in the Works Theater, Body Stage, Planetarium, and Omnimax theaters before and after featured shows. These conversations will allow girls to talk about careers and interests with women in STEM professions.
Two Omnimax films will spotlight some amazing women in science. Jane Goodall's Wild Chimpanzees will illuminate her life and work, and Born to be Wild tells the heartwarming story of Dr. Biruté Mary Galdikas, who rescues orphaned orangutans in the rainforests of Borneo, and Dame Daphne M. Sheldrick, who cares for orphaned elephants in Kenya. Both women nurture, rehabilitate, and return these incredible animals back to the wild.
Participating organizations include:
Aesynt
ANSYS
Building Bridges for Businesses, U can B
The Campus School of Carlow University
Carnegie Mellon University
City of Pittsburgh
Chartiers Valley School District
Dental Works
Edgar Snyder
Federal Bureau of Investigation
Giant Eagle
La Roche College
Lake Erie College of Osteopathic Medicine
LECOM
MBM Contracting
MBM Partner JP Phillips
MBM Partner McKamish
Mine Safety Appliances
Montour School District
Oakland Catholic High School
SAE Society of Automotive Engineers
SDLC
Society of Women Engineers
Thermo Fisher Scientific
Thiel College
Trinity School District
Peters Township School District
Verizon Foundation
Washington & Jefferson College
Westinghouse
Williams
Young Women in Bio
YWCA