The Coffee With Show featuring Rosedale Technical College and President Dennis Wilke. Host Christopher Evans.
Dennis Wilke –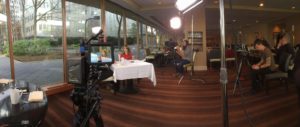 President and Director of Rosedale Technical College, Dennis Wilke values a student-centered approach in everything he does.
Dennis began his leadership at Rosedale Tech in 2005 and has since increased revenue by 400 percent, doubled the number of employees, and educational offerings have nearly tripled.
Dennis serves on the Executive Board of Directors for the PA Association of Private School Administrators and recently won the 2015 Pittsburgh Smart 50 Impact award.
Under the leadership of Dennis, Rosedale Tech was named the #1 Best Places to Work in Pittsburgh for both 2014 and 2015 according to the Pittsburgh Business Times.
Currently, Dennis is writing a book focusing on the value and need for additional support for career centered education in America. As a Pittsburgh native, Dennis lives in South Fayette with his wife and three children. Dennis also likes long walks on the beach and moonlight dinners accompanied by the soft sounds of Barry Manilow.
Mission
The mission of Rosedale Technical College is to enable students to obtain employment in positions related to the trade industries using hands-on training programs aligned with industry needs and effective student services designed to promote student success.
Vision
We are the engine of our regional economy by providing genuinely valuable hands-on training which adapts to meet the needs of employers. We unlock the energy of our students and provide the spark of knowledge which gives our students the confidence to change their lives.
Values
RTC values a student-centered approach in everything we do. We also value continuous improvement and self-development along with honesty, humility and enthusiasm.