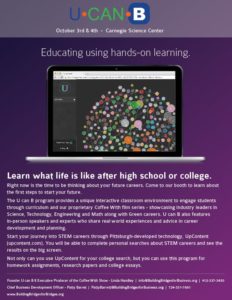 Girls Rock Science℠ Weekend
Cost: Free with Admission
Date: Oct 3, 2015 Daily until Oct 4, 2015
Women make up about 50% of the workforce in the United States but hold only 25% of STEM jobs. Carnegie Science Center is working to reverse this disturbing trend through a wide range of programs, including Girls Rock Science℠ Weekend on Saturday, Oct. 3 and Sunday, Oct. 4.
Carnegie Science Center is partnering with KDKA TV for a weekend designed to get girls excited about science and technology and to acquaint them with a wide range of STEM careers. Throughout the building, STEM professionals from a wide range of organizations will staff tables of interactive demonstrations and hands-on activities.
On Oct. 3 only, "NCIS: Los Angeles" star Renee Felice Smith, who plays Nell Jones on the hit TV show, will headline the event and will meet and talk with families.
Girls who have participated in our STEM competitions, like our Pittsburgh Regional Science & Engineering Fair and the Future City Competition, will bring their projects to display and discuss with visitors.
A STEM Chat feature is being planned to foster conversations between girls and STEM professionals. STEM Chats will take place in the Works Theater, Body Stage, Planetarium, and Omnimax theaters before and after featured shows. These conversations will allow girls to talk about careers and interests with women in STEM professions.