U can B School Year 2015-16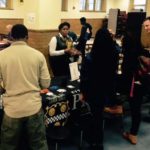 Building Bridges for Business brought Career Day back to more than a dozen local schools this year via the U can B Career Awareness Program. Our feature school is Pittsburgh Perry High School. U can B also had the opportunity to participate in many wonderful community events. Here are some of our favorite moments! Thanks to all of our schools, employers, community partners, and students for making this year a wonderful school year!
Perry High School
Perry High School began in October of 2015 with a visit from a representative of Amazon Corporation. Employer visits, career overviews, and job search opportunities became the theme of the U can B Program at Perry High School, which ran from October of 2015 until April of 2016! A Representative of Presidents Obama's STEM initiative visited the "Ladies of Perry" in October and the students discussed the importance of learning, education, and ways to get into STEM related careers. The students thoroughly enjoyed the day and said, "this is the best speaker I ever heard."
In addition to U can B staff, many Pittsburgh-area businesses and organizations sent representatives to visit with 10th graders at Perry High. These included Bidwell Training Center, Amazon, and Rosedale Technical College.
On the evening of March 15, 2016, U can B organized a Career Opportunity Fair at Perry High. This event was open to both students and parents. Students had the opportunity to apply for jobs and/or discuss future career possibilities with employers; parents were invited to seek employment as well. Participating companies and organizations included The City of Pittsburgh, Arts Greenhouse, United States Probation & Pretrial Services of Western PA, Atlas Dreams Languages, LogixGuru, Allegheny Health Network, First National Bank, Bidwell Training Center, PNC Bank, Legal Shield, CCAC, Job Corps, and UPS.
U can B hosted a second Career Opportunity Fair on the morning of April 20th. This event was only made available to Perry High School juniors and seniors who were seeking employment. Participating companies and organizations included Rosedale Technical College, Made Right Here, The Priory Hotel, US Army, Allegheny Health Network, IBEX Global, The City of Pittsburgh, Moriarty Consultants, First National Bank, and Career Talk on KDKA.
The Perry High School U can B Program will continue in 2016-17.