Educating 6th – 12th Grade Students. In School, After School and in Summer Programs. 
Proven curriculum – Tailored to meet your school's needs. Customizable topics and program lengths. Select the topics and Number of Weeks.
Educational programming – for students to connect with vital business resources. Job and resource fairs for employment "on the spot"

Entrepreneurs and businesspeople, along with the non-profit organization Building Bridges for Business, are giving local students the chance to see what life is like after high school and college.
The U can B Curriculum is tailored to meet your school's needs, and allows each curriculum component to be expanded or contracted to fit within a specific number of weeks based on the strengths and weaknesses of the class. Classes included in the U can B curriculum include:
Entrepreneurship

Trades and Careers in the Trades

Technology – Website design and SEO

Technology – Careers in IT and web design
Technology – Graphic Design and Animation
Film, Television and New Media

Science – Green and Sustainable practices and careers

Science – Veterinarian Study and Animal Related Careers
Science – Healthcare and Careers in Healthcare

Government and Politics
U can B – Career Preparation and Networking
U can B – Softskills and Leadership

and More! 
The UcanB an Entrepreneur program engages students in starting a business of their own.
UcanB an entrepreneur focusses on researching and developing a viable business concept, creating a workable business plan, and launching your business.
The program further engages the students with our proprietary Coffee With Film series, which showcases industry leaders and politicians with a variety of insight in those careers. The program is further augmented with In person speakers and experts that share real world experiences and advice in career development and planning.

Here are a few profiles of schools currently enrolled within the U can B program.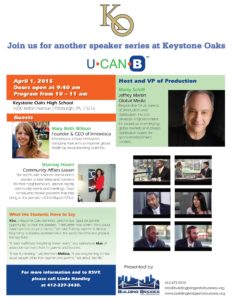 FEATURED SCHOOL – Keystone Oaks
What the Students are saying from Keystone Oaks
Kira, a Keystone Oaks freshman, said she was "glad we got the opportunity" to hear the speakers. "I feel better now when I think about what I want to do (as a career)," she said. She said she is already beginning to shadow professionals in the sports medicine and physical therapy fields. "It really reaffirmed everything I have heard," said sophomore Max of advice he has heard from his parents and teachers. "It was illuminating," said freshman Melissa. "It was enlightening to hear actual people rather than teachers and parents," talk about "real life."
Keystone Oaks High School hosted a take on the program called "U can B." The series involves one-on-one interviews with successful people from in and around Pittsburgh. Coffee with… brought its informal format students from the school's gifted program. They listened attentively and participated in a discussion with Pittsburgh City Councilman Corey O'Connor and jazz singer/songwriter Jessica Lee. The program was the second in the series at Keystone Oaks. Last month, Pittsburgh City Councilman Dan Gilman and entrepreneur Max Miller spoke to students.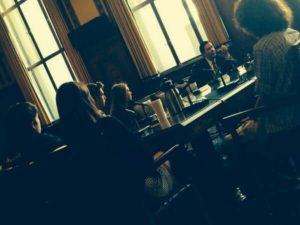 While there was no coffee served at the school, the speakers did offer advice and insight to students. Students shared with the panelists their goals for the future, such as going into the medical field or some type of engineering. Jessica Lee, who is originally from Franklin, Pa., is an artist and entrepreneur. She started playing the piano at age 5 and has loved music ever since. Lee went to Duke University for college and then on to Duke Law School, where she studied and received a law degree in entertainment law. "I practiced law for seven years while I was singing at night," Lee said. Eventually, Lee gave up law to pursue music and entrepreneurial ventures. She started her own record label as well as collaborated with the non-profit Pittsburgh Gateways Corporation and co-founding the America's Arts and Music Crossroads Center. The latter organization connects professional artists and musicians with underprivileged youth for creativity and career coaching. She has released four albums and is on seven compilation albums. "I really have a blend of a creative and entrepreneurial career," Lee said. At 29 years old, Corey O'Connor is the youngest serving member of Pittsburgh City Council. He represents District 5, which includes Greenfield, Glen Hazel, Hays, Hazelwood, Lincoln Place, New Homestead, part of Regent Square, Squirrel Hill South and Swisshelm Park. He was sworn in at age 27, exactly 20 years to the day after his father, the late Bob O'Connor was sworn in as a member of City Council. Bob O'Connor went on to become mayor of Pittsburgh until his death in 2006. "The city really embraced our family," O'Connor said. O'Connor graduated from Central Catholic High School and earned a degree in elementary education from Duquesne University. In addition to his duties as a councilman, O'Connor is also the golf coach for Central Catholic High School. As a councilman, he is chairman of the parks and recreation commission.As far as advice, O'Connor told students not to let their young ages hold them back from anything. "You have to fight to say, 'Yes, I'm young, but I have the qualifications to get the job done,'" he said. Lee advised a hands-on approach to finding out one's career path. "You have to be in motion doing something – trying something – to get a feeling of what you want to do," Lee said. She referred to a time when she shadowed her mother, a physical therapist, for four hours to see if that was something she wanted to do after college. She said after that short period of time, she knew that physical therapy wasn't the field for her. "You want to move toward the things you really like," she said. "Go and spend a day or half a day shadowing someone in that industry."
O'Connor agreed that job shadowing is important. "As long as you love it, keep doing it." He added that it's good to also know that there are some stresses with working that "you don't see." He referred to some nights when he has a hard time sleeping, thinking of whether he made the right vote. Lee was also realistic in stating that there's a "boring, tedious part to get to the good part," in your career. She referred to a time when she was young and had to take years of classical piano lessons, which at the time she did not like, but now knows she learned valuable skills from those classes. "If I didn't go through those piano lessons, I wouldn't be the musician I am today," Lee said. O'Connor offered another piece of advice to students: "Don't let people pressure you into a decision you're not comfortable with." He said he felt the pressure to run for city council when he was 21 years old, but he wasn't ready to do it at that time. "You have to make that decision," he said. "Trust your gut reaction over everybody else. Your gut is always right and will not give you the wrong answer."
Kira, a Keystone Oaks freshman, said she was "glad we got the opportunity" to hear the speakers. "I feel better now when I think about what I want to do (as a career)," she said. She said she is already beginning to shadow professionals in the sports medicine and physical therapy fields. "It really reaffirmed everything I have heard," said sophomore Max of advice he has heard from his parents and teachers. "It was illuminating," said freshman Melissa. "It was enlightening to hear actual people rather than teachers and parents," talk about "real life."